Russian Social History Yearbook (RSHY)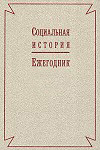 The Social History Yearbook, Sotsial'naja istorija. Ezhegodnik, has been published in Moscow since 1997, with the support of the International Institute of Social History (IISH). The main aim of the yearbook is to provide a general impression of the new ideas in social history, the experience of interdisciplinary and comparative approaches in social history studies in Russia and abroad, and to stimulate interest in social history in Russia.

Special attention is given to the new and recently opened archival sources and to new approaches to well-known sources. The yearbook reflects contemporary tendencies in social history studies in Russia. It includes articles on the methodology of social history, historiography, social history of the Soviet period, labour, gender, criminal and ethno-social history, social history of war, migration, social history of populations, children and youth, everyday and private life, and the role of sources in social history.

As of 2009 the Yearbook also contains a book review section. The idea of this section is to contribute to a dialogue between Russian and foreign specialists on Russian history by having important foreign publications reviewed by Russian historians and vice versa.

The yearbook is a joint initiative of the Centre of Social History at the Institute of General History of the Russian Academy of Sciences (IVI RAN), the Interdisciplinary Centre for Studies in History, Economy and Society (ICSHES), the Centre of Economic History at the Faculty of History of the Moscow State University (MGU), the Centre of Contemporary History of Russia and Political Science in the Institute of Russian History of the Russian Academy of Sciences (IRI RAN), the Centre of Gender Research at the N.N. Miklukho-Maklaia Institute of Ethnology and Anthropology of the Russian Academy of Sciences, and the Russian Association of Researchers in Gender History.

The members of the Editorial Board are K.M.Anderson, L.I.Borodkin, A.K.Sokolov, I.Iu.Novichenko, A.V.Poletaev, N.L.Pushkareva, G.Kessler (since 2003), and M.van der Linden.

For more information, contacts, on-line contents and instructions for contributors, please refer to the website of the Social History Yearbook.
Contents and summaries