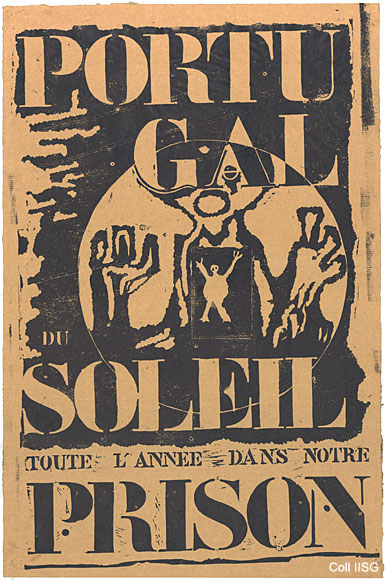 Portugal - Sun in our prisons all year round
Poster, Soccorro Vermelho, Brussels,
1971
The opposition to the dictatorial regime of Salazar and his successor Caetano in Portugal (until 1974) included social democrats, communists, and clerics. Adversaries of the regime were to be found in emigrant settlements in Algeria, Brazil, and Geneva. After 1968 they were joined by an 'indigenous' student movement. They both inspired an international network of solidarity calling for a Portugal free of terror and independence for the former Portuguese colonies in Africa and Indonesia. Because tourism had boosted the Portuguese economy since the sixties, the Free Portugal movement chose it as one of its targets.
See also:
Archives Tulipa Vermelha