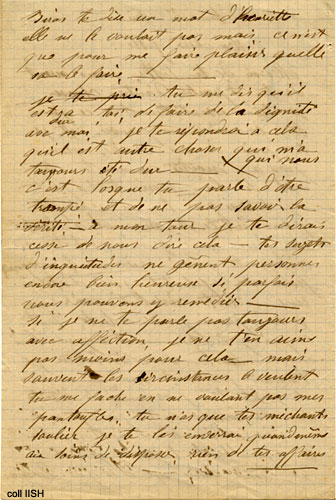 Letter from Mrs. Michel to her daughter
n.d., Xavière Gauthier in her book
Je vous écris de ma nuit
, dates this letter in 1883
This letter is not written by Marianne Michel, who was illiterate, but by Louise Biras, one of her nurses.
Louise Michel inventory, no. 978
page
1
| 2 |
3
Transcription
Translation
Transcription
Samedi soir
Ma chère fille,
Merci de ta lettre mais, avant de te parler d'autre chose je tiens essentiellement à ce que tu connaisse ma pensée et je te prie de me croire, non pas à moitié, comme tu le dit si bien, mais tout à fait. Je trouve que tu m'aurais été plus utile, à moi et à d'autres, de faire une grande artiste, en n'importe quoi, rien ne te manquait pour cela, plutôt que d'être une artiste révolutionnaire - je suis payée pour détesté tout ce qui y touche - et aujourd'hui encore, sans ta révolution, je t'aurais près de moi -
si je ne t'ai pas donné de détails sur les bonnes, c'est que je n'en ai rien à dire, si ce n'est qu'elles se ressemblent toutes en général. Je tiens beaucoup à ce que Louis Biras te dise un mot d'Henriette. Elle ne le voulait pas mais ce n'est que pour me faire plaisir qu'elle va le faire.
Tu me dis qu'il est dur à toi de faire de la dignité avec moi. Je te répondrai à cela qu'il est autre chose qui m'a [qui nous] toujours été dur. C'est lorsque tu parle d'être trompé et de ne pas savoir la vérité. A mon tour, je te dirai : cesse de dire cela. Tes sujets d'inquiétudes ne gênent personnes ; encore bien heureux si parfois, nous pouvons y remédier.
Si je ne te parle pas toujours avec affection, je ne t'en aime pas moins pour cela. Mais souvent les circonstances le veulent. Tu me fâches en ne voulant pas mes pantoufles ; tu n'as que tes méchants souliers. Je te les enverrai quand même. Ais soin de disposer, rien de tes affaires sitôt que Mme Kéva ira te voire, elle te porteras tes crayons.
Je t'embrasse mille fois.
Ta mère, Marianne Michel
Translation
Saturday evening

Dear daughter

Thanks for your letter, but I must tell you something, and you must believe me, not just halfway, as you say, but fully. I think that you would have been more useful, to me and other people, if you had become some kind of great artist. You could have done it instead of becoming a revolutionary artist. Then, without your revolution, you would be with me.
If I didn't tell you anything about the servant, it is because I don't have anything to say. They are not such different women. I want Mrs. Biras to tell you about Henriette. She didn't want to, but I asked her to do it.
You say that it is difficult to maintain your dignity with me. I have to tell you that when you say we hide some truth from you it is very hard for me to hear that. Stop saying this! If you are worried, we can help you.
Even if I don't express a lot of love, I still love you. But when you behave like this, I am also upset with the fact you refused my slippers, you only have old ones. Anyway, I will send you some. You can do as you want with them after Mrs. Keva's visit. She also brings you your pencils.

With much love

Your mother, Marianne Michel


This transcription respects original orthography of the text. However, punctuation and accents could have been added.