Henk Sneevliet - A Life in Documents
Personal life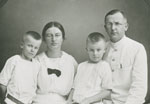 Henk Sneevliet, whose principle of life was the Indonesian motto Berani Karena Benar [Being brave as that is good], led a tempestuous life. He was married four times. In 1906 he married Maartje Visser. This marriage was dissolved in 1908. From 1909 he was married to E.J. (Betsy) Brouwer, a teacher, until their divorce in 1924. Henk and Betsy had two sons, twins, born on 9 March 1911, nicknamed Pim and Pam. Both died at an early age, Pim in 1932 and Pam in 1937, both by suicide. Betsy died in 1966.
From 1922 Sneevliet had a relationship with Sima L'vovna Zolkovskaja, who he became acquainted with in Moscow. Sneevliet and Sima had a daughter also called Sima, born in 1923. They were married in 1926, but Sima left Sneevliet in 1928. With her daughter, Sima Zolkovskaja returned to the Soviet Union in 1934. In 1929 Sneevliet married W.H. (Mien) Draaijer. In the Second World War, Mien Draaijer was caught by the Germans together with Sneevliet and sent to the Ravensbrück concentration camp. She survived the war and was released in April 1945. She died in 1965.
Letter from Henk Sneevliet's wife Betsy Sneevliet-Brouwer and from his sons Pim and Pam to Henk Sneevliet, Zwolle 3 and 4 May 1920. (Dutch text)
Henk Sneevliet Papers, inv.no. 363 (pdf, 4.6Mb)
Letter from Henk Sneevliet to Clara Zetkin, Amsterdam 23-4-1924, concerning Sneevliet's wife Sima L'vovna Zolkovskaja and their daughter and obtaining a passport for Sima to travel to the Netherlands. (German text)
Henk Sneevliet Papers, inv.no. 363 (pdf, 1Mb)
Letter from Henk Sneevliet to his wife Sima Zolkovskaja, 20-6-1924, on her trip to the Netherlands and other personal matters. (German text)
Henk Sneevliet Papers, inv.no. 363 (pdf, 854Kb)
Henk Sneevliet was closely watched by the intelligence services of the Netherlands and other western countries. That was the reason that Sneevliet used the pseudonym Maring, pronounced by the Chinese as Malin, on his missions to China. Maring was the main pseudonym under which he conducted his work for the Comintern. Sneevliet had already used this pseudonym in the Netherlands Indies in 1918 when publishing ironic or satirical articles in Het Vrije Woord. He also used the following aliases at one time or another during his political activities: Andresen, Baanbreker, Martin Ivanovich Bergman, H. Brouwer, Jack Horner, Mander, Mr. Philipp, Sentot, Mr. H. Simons, and Joh. van Son.