My Sojourn in Pakistan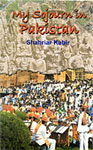 Shahriar Kabir
,
My Sojourn in Pakistan
Dhaka: Anannya, 2004; ISBN 984-412-397-6; 132 pp.
The breeding ground of fundamentalism and communalism in South Asia is Pakistan. To topple the leftist Afghan government of Najibullah during the era of General Ziaul Haq, Pakistani intelligence agency ISI, in active collaboration with the CIA, created the extremist fundamentalist Talibans. Not only have these Talibans ruined Afghanistan, but they also have become a threat to the very existence of Pakistan. Although General Pervez Musharraf assumed power after toppling an elected government in a bloodless military coup, surprisingly he has taken a firm stance against fundamentalists. For this reason, a consiberable section of the civil society of Pakistan has offered to lend its weight to General Pervez Musharraf despite the fact that his is a military government.
At this critical time of Pakistan, writer-journalist-filmmaker Shahriar Kabir visited Pakistan in March 2001. His purpose was to participate in an international workshop on 'Oral History' in Karachi. However, he also exchanged views with the leaders of the civil society of Pakistan regarding the arrangement of the South Asian Conference Afainst Fundamentalism and Communalism to be held in Dhaka, did some shooting for his film on Kashmir, and talked to artistes, literatues and intellectuals, and to leaders and activists of human rights movement.