Solidarity without the State? Business and the Shaping of the Swiss Welfare State, 1890–2000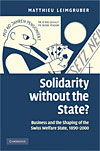 Matthieu Leimgruber
,
Solidarity without the State? Business and the Shaping of the Swiss Welfare State, 1890–2000
Cambridge, UK: Cambridge University Press, 2008. ISBN-13: 9780521875400, 336 pp.
This book presents the first comprehensive history of the interplay of public and private provision that made the Swiss 'three-pillar' pension system into a model for the World Bank and other pension reformers during the last two decades of the twentieth century. Through a study of business federations', private pension lobbyists' and insurance companies' archives, Matthieu Leimgruber charts the century-long battle waged over the boundaries of state and private pensions. He shows how a distinctive path towards social provision has laid the foundation for a pension fund industry rivalling that of the United States and the United Kingdom. Through this comparative approach Matthieu Leimgruber is also able to question current assumptions about the strict dichotomy between 'Anglo-Saxon' and 'continental' models of welfare provision. This study will appeal to scholars of twentieth-century European history, economic history, political economy and welfare economics.