Rebels with a Cause. Five centuries of social history collected by the IISH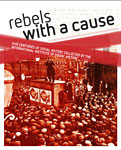 Jaap Kloosterman, Jan Lucassen
,
Rebels with a Cause. Five centuries of social history collected by the IISH
Amsterdam: Aksant, 2010. ISBN 978-90-5260-386-5, 240 pp.
*To order this book, please go to the IISH's Social History Shop. For questions and more information, please contact .
Revolutionaries, anarchists, socialists, peace activists, sexual reformers, fundamentalists... 'rebels with a cause' have featured in every age, The collections of the International Institute of Social History (IISH) in Amsterdam are full of them. The IISH is the world's largest documentation centre in the field of social history and emancipation movements. The collections for which the Institute is renowned occupy some 50 kilometres of shelf space filled with books, archives, posters, banners and photographs.
This book is published on the occasion of the Institute's 75th anniversary in 2010. It looks back on three quarters of a century of collection development in an international context. Yet it also tells a new history of creative ideas and people who fought for radical change. 'Rebels with a cause' constitute the thread through this story built from over two hundred original documents. From Karl Marx to Aung San Suu Kyi, from the French Revolution to the Chinese student revolt of 1989, from the early modern world explorers to today's anti-globalists.
Jaap Kloosterman and Jan Lucassen are senior staff members of the IISH. They have been involved as curators in the exhibition 'Rebels with a Cause: the IISH at 75' in the Special Collections Building of the University of Amsterdam, 29 October 2010 - 30 January 2011.
Table of Contents
Preface
Working for Labour: three quarters of a century of collecting at the IISH
The Selection
Chapter 1: The West en the Rest
1.1: The emergence of markets
1.2: Great theoreticians
1.3: Revolutions in Europe
1.4: Socialism
1.5: Anarchism
1.6: Communism
1.7: Alternatives to the 'Left'
Chapter 2: Eastern Europe
2.1: Tsarist Russia
2.2: Communist Russia
2.3: Anti-communist opposition
Chapter 3: The Near and the Middle East
3.1: Forced modernization
3.2: Resistance to modernization
3.3: Zionism and anti-Zionism
Chapter 4: South and Southeast Asia
4.1: Colonialism and imperialism
4.2: Anti-colonialism
4.3: New social movements
Chapter 5: Globalization, anti-globalization, alter-globalization
5.1: International migrations
5.2: Political reactions to globalization
5.3: Human rights
5.4: The environment
Sources
A few words of gratitude