The World in World Wars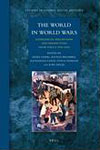 Edited by Heike Liebau, Katrin Bromber, Katharina Lange, Dyala Hamzah and Ravi Ahuja
,
The World in World Wars. Experiences, Perceptions and Perspectives from Africa and Asia
Studies in Global Social History, vol. 5
Leiden : Brill, 2010. ISBN 978-90-04-18545-6 (hardback), x + 613 pp.
The volume situates itself within the growing field of research on the global social history of the World Wars. By investigating social and cultural aspects of these wars in African, South Asian and Middle Eastern societies it aims at recovering both the diversity of perspectives and their intersections. Drawing substantially on new sources such as oral accounts, propaganda material and artistic representations, the publication investigates the experiences of combatants and civilians on the frontline and in the rear of the front. It studies spontaneous and organized responses manifested in public debates, propaganda activities, and in individual and collective memories. Questioning conventional periodizations and discussing both wars together, the book analyses broader implications of the wars for African and Asian societies which resulted in significant social and political transformations.
Table of contents
Part one: War Experiences and Perceptions
. Indian Soldiers' Experiences in France during World War I: Seeing Europe from the Rear of the Front, Claude Markovits
. Front Lines and Status Lines: Sepoy and 'Menial' in the Great War 1916-1920, Radhika Singha
. Military Service, Nationalism and Race: the Experience of Malawians in the Second World War, Timothy J. Lovering
. The Corrosiveness of Comparison: Reverberations of Indian Wartime Experiences in German Prison Camps (1915-1919), Ravi Ahuja
. The Suppressed Discourse: Arab Victims of National Socialism, Gerhard Höpp (with a prologue and an epilogue by Peter Wien)
. Egypt´s Overlooked Contribution to World War II, Emad Helal
Part two: Representations and Responses
. Kaiser ki jay (Long Live the Kaiser): Perceptions of World War I and the Socio-Religious Movement among the Oraons in Chota Nagpur 1914-1916, Heike Liebau
. Correcting their Perspective: Out-of-area Deployment and the Swahili Military Press in World War II, Katrin Bromber
. The First World War According to the Memories of 'Commoners' in the Bilad al-Sham, Abdallah Hanna
. Ambiguities of the Modern: The Great War in the Memoirs and Poetry of the Iraqis, Dina Rizk Khoury
. Ardour and Anxiety: Politics and Literature in the Indian Homefront, Santanu Das
. Radio and Society in Tunisia during World War II, Morgan Corriou
Part three: Social and Political Transformations
. Peripheral Experiences: Everyday Life in Kurd Dagh (Northern Syria) during the Allied Occupation in the Second World War, Katharina Lange
. Military collaboration, Conscription and Citizenship Rights in the Four Communes of Senegal and in French West Africa (1912 - 1946), Francesca Bruschi
. 'Our Victory Was Our Defeat': Race, Gender and Liberalism in the Union Defence Force, 1939 – 1945, Suryakanthie Chetty
. The Impact of the East Africa Campaign, 1914-1918 on South Africa and beyond, Anne Samson
. From the Great War to the Syrian Armed Resistance Movement (1919-1921): The Military and the mujahidin in Action, Nadine Méouchy
. Still Behind Enemy Lines? Algerian and Tunisian Veterans after the World Wars, Thomas DeGeorges
. The Creativity of Destruction: Wartime Imaginings of Development and Social Policy, c. 1942-1946, Benjamin Zachariah