Explorations in Economic Growth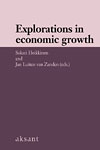 Sakari Heikkinen and Jan Luiten van Zanden (eds)
,
Explorations in Economic Growth. A festschrift for Riitta Hjerppe on her 60th birthday
Amsterdam: Aksant Academic Publishers, 2004; ISBN 90-5260-165-8 ; 384 pp.
Economic growth has been one of the great themes of the social sciences, analyzed by economic theorists on the one hand and measured by quantitative economic-historical research on the other. This volume looks back on fifty years on research on the topic, building on the legacies of Clark, Kuznets, Solow and Swan. Leading scholars in the field, such as Angus Maddison, Nicholas Crafts, Albert Carreras, Luis Bertola and Olle Krantz address the big questions: why are some countries rich and others poor; what were the causes of productivity growth in the past two hundred years; how did major technological transformations - such as the steam engine, electricity, and the ICT-revolution - affect productivity growth; how much growth did take place in different parts of the world before and after the Industrial Revolution? And what should the new agenda for research in a globalizing economy?