Class and Other Identities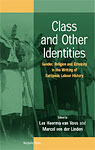 Lex Heerma van Voss en Marcel van der Linden (eds.)
,
Class and Other Identities. Gender, Religion and Ethnicity in the Writing of European Labour History
; International Studies in Social History vol 2;
Oxford/New York,
Berghahn Books
, 2002; ISBN 1-57181-301-2, 250 pp.
In recent years, much debate has taken place on the future and function of labour history. Among the issues debated was the position of class, and other identities of working class people, such as gender, religion and ethnicity.
In this volume European historians of labour and the working classes address this issue. Two non-European scholars comment on their findings. The volume contains an extensive bibliography of recent studies in European labour history.